Explorer googles
981034600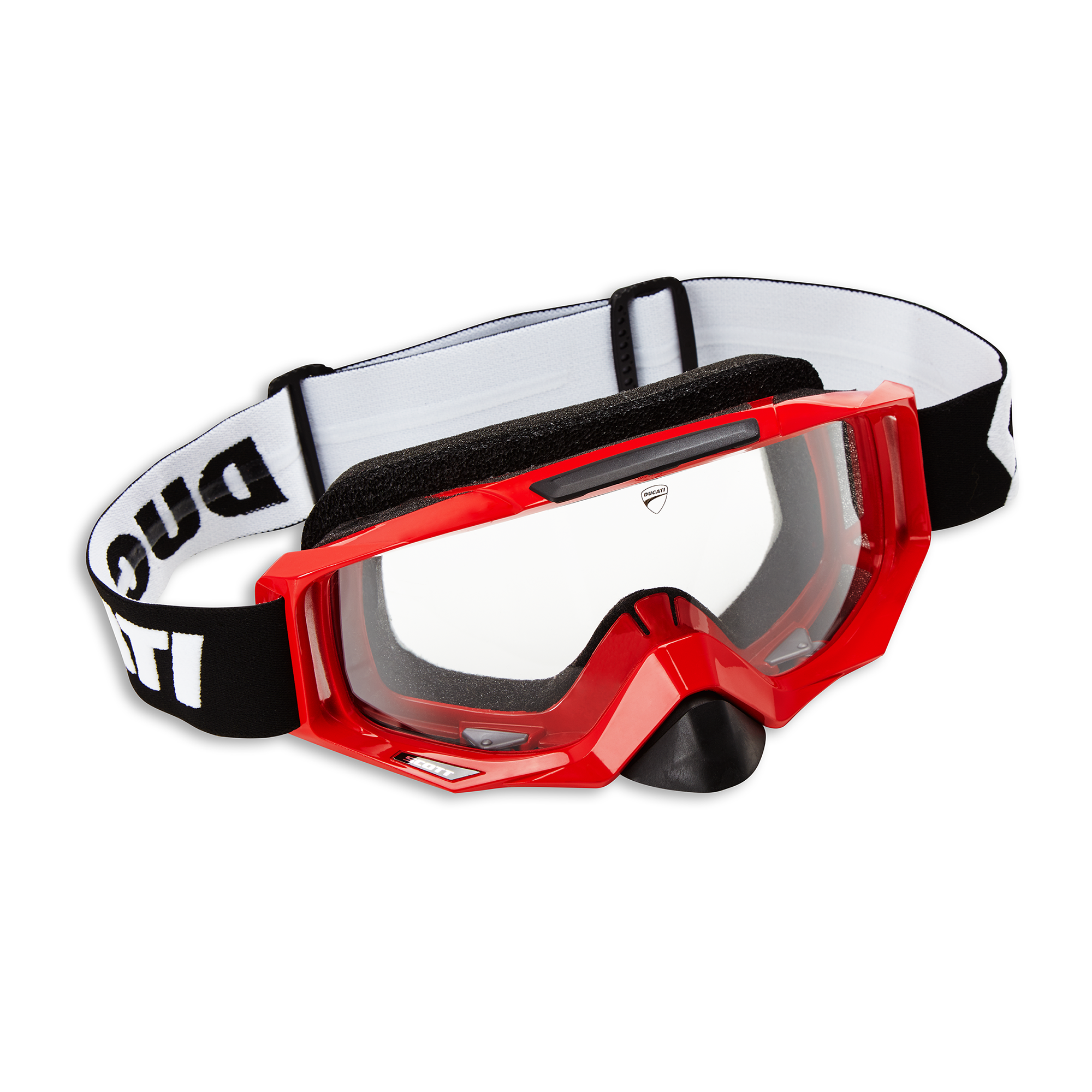 The Explorer goggles, created in collaboration with Scott, are equipped with silicon inserts on the internal side of the elastic band to perfectly combine with the helmet. The three-layer goggle coating, nose guard and air vents allow for multiple adjustments to adapt the goggles to the rider's face and the different conditions of use. The lenses are light, anti-fog and guarantee total UV protection. The ideal goggles for even the most demanding rider in terms of comfort, safety and fun. A must for enduro and off-road use.
PRODUCT DETAIL
Patented tecnologies
Fit System Technology allows adjustments of the lower face flange with 4 mm range of motion in 4 directions. This adjustment allows the user to create the perfect goggle seal and facial fit. Using the dedicated tool to move the 2 screws at the bottom of the goggles frame, it is possible to choose among 4 fit positions. RAM Air (Revolutionary Air Management). RAM is a patented frame ventilation system. It directs the airflow within the goggle by using a clean and controlled top-to-bottom pattern eliminating "swirling air" and fogging. The adjustable and removable RAM Air plug enables a full or partial seal of the RAM Air frame openings allowing the rider to customize the ventilation settings. NoSweat 3.2 Face Foam. This system channels sweat away from the face while relieving pressure from the nose. The first layer channels sweat away from the face; the middle layer absorbs sweat; the third fleece layer creates a comfortable fit and seal. SCOTT Truview Lenses are lightweight and block 100% of harmful UV rays. NoFog™ Anti-Fog Treatment prevents condensation and fogging.
Plus
The silicone internal inserts of the elastic band guarantee a perfect adherence to the helmet.
The adjustable noseguard allows to choose among 3 positions in order to obtain a perfect and personalized size range.
Microfibre sack included
Addictional smoky grey lens included
NOTES
Explorer goggles perfectly suit Explorer helmet